STEPHEN GOSS
Writer / PA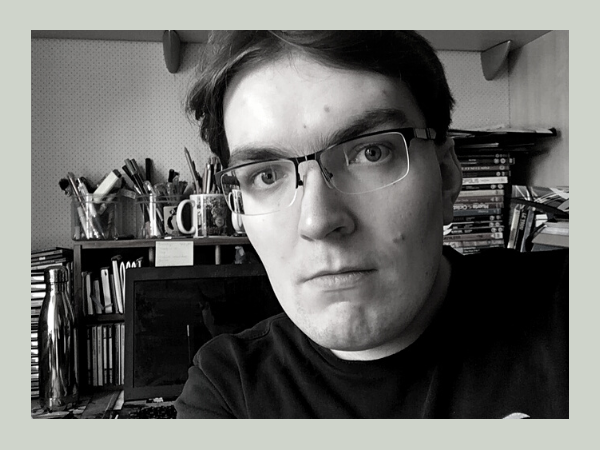 Stephen is a writer whose work generally takes a dark look at the world, often through a sci-fi and/or political lens, and quite often with a coming-of-age element. He also enjoys writing comedy, particularly with a satirical edge.
Having previously read Modern Languages at Cambridge, he graduated last year from the London Film Academy's final Screenwriting Diploma and was voted Student Screenwriter of the Year 2020. When not in a trance wondering what happens next in his stories, he can usually be found hunting through streaming platforms for all the films and TV series he's missed from past years, or hunting through Spotify for ever more obscure 80s AOR. Sometimes, just sometimes, he finds a moment to read a book.
Stephen was a delegate at London Screenwriters' Festival 365 Online in May 2020, where he met Anne, Medelia and a couple of other writers who formed the original writing team for the project in its current incarnation.
For Quivalon
Over the past year, he has worked most consistently on the upcoming Clash of the Cousins podcast series – contributing to overall storylining, casting and production as well as writing four of the six episodes – and on the World of HOOD wiki site, for which he has written several articles and helped oversee the writing of many others related to the podcast. He also contributed to the writing, casting and production of the promos over the summer, and was present on set as a runner and extra – look very closely, don't blink and you might just spot him…
Stephen's Favourites
DEATHBED WATCH: Doctor Who
PAGE-TURNER: Fahrenheit 451 by Ray Bradbury
LITTLE KNOWN GEM: Travelers on Netflix
GUILTY PLEASURE: The Apprentice
CURRENT ADDICTION: The Expanse – oh, and watching old episodes of Only Connect too…
Twitter: @SGossWrites
Instagram: @stephendkgoss