FALLING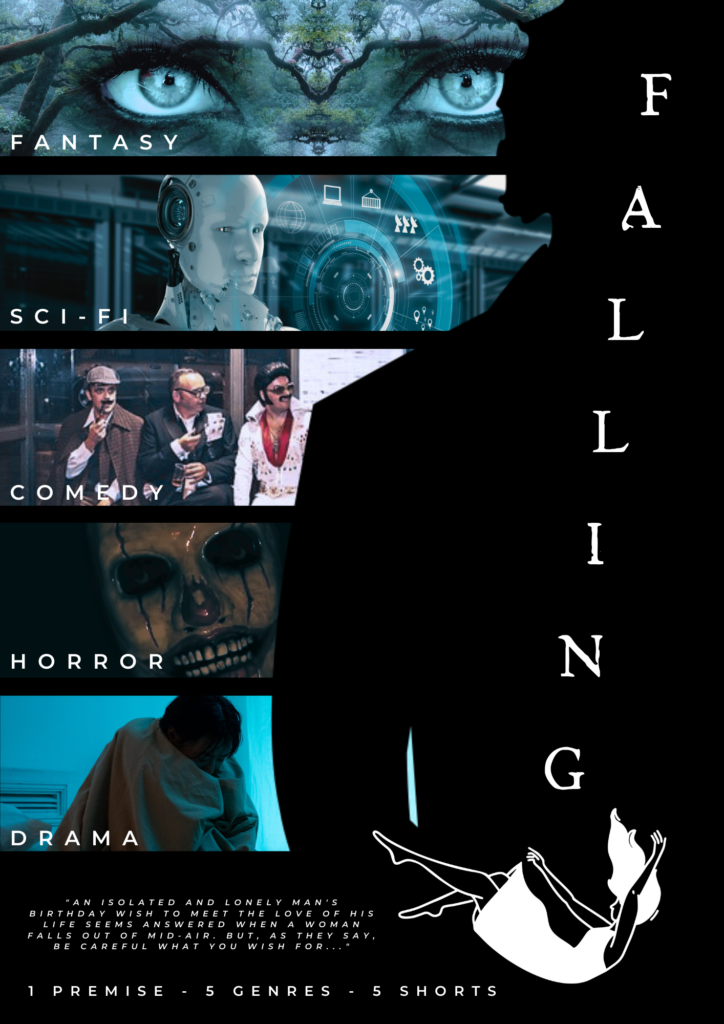 Created by Anne de Korte
Written by Stephen Goss, Victoria Howell, Anne de Korte and Judit Vörös
FORMAT: 5 related short films
LENGTH: 5-10 minutes each
GENRE: Fantasy, Sci-Fi, Comedy, Horror, Drama
STATUS: Scripts in development, shooting scheduled for summer
PREMISE:
An isolated and lonely man's birthday wish to meet the love of his life seems answered when a woman falls out of mid-air. But, as they say, be careful what you wish for…
Falling is an experimental project in which we aim to explore the influence of genre on film storytelling. Sound design, camera angles, lighting, the way actors deliver a line – these are all elements that can change a scene drastically and are often dictated by the choice of genre. So we wanted to dive deeper into this. We didn't go as far as using the exact same script – that's another experiment for another day – but we are keeping as many factors consistent as we can: each script will start with the same premise, take place in the same location and use the same actors. And the choice of genre will dictate the prominent characteristics of our leads and how the story itself will unfold.
---
Genres
Depending on whom you ask, there can be anywhere between 11 and 13 basic genres, and that's not even going into all the subgenres that exist. Trust me, we'd be here all day. Perhaps helpfully, the one-location challenge we've set ourselves means that we can't do them all – and that's before we even consider the budget. Goodbye, then, to action, sports and western, but hello to these five genres that were the perfect mix of creatively stimulating and practically workable:
(urban) Fantasy – we'd love to do high fantasy (one of our favourite genres) but we have to be budget conscious.
Sci-fi – as with fantasy, not the expensive version.
Comedy – because who doesn't love a laugh? And, indeed, who doesn't like to laugh about love?
Horror – rather horrifyingly, there were a lot of ideas to choose from for this one.
Drama – because we're all pretty dramatic in love, let's be honest.
---
Planning
Following some exhilarating brainstorming sessions, we are gearing up to the point where the genres are divided amongst the writers so that we can crack on with the scripts. We plan to go to set over the summer and then spend the autumn in post-production, with a chance of spilling over into the winter because these things always take longer than you expect. We aim to have 5 short films completed by the beginning of next year at the latest.
---
---