FALLING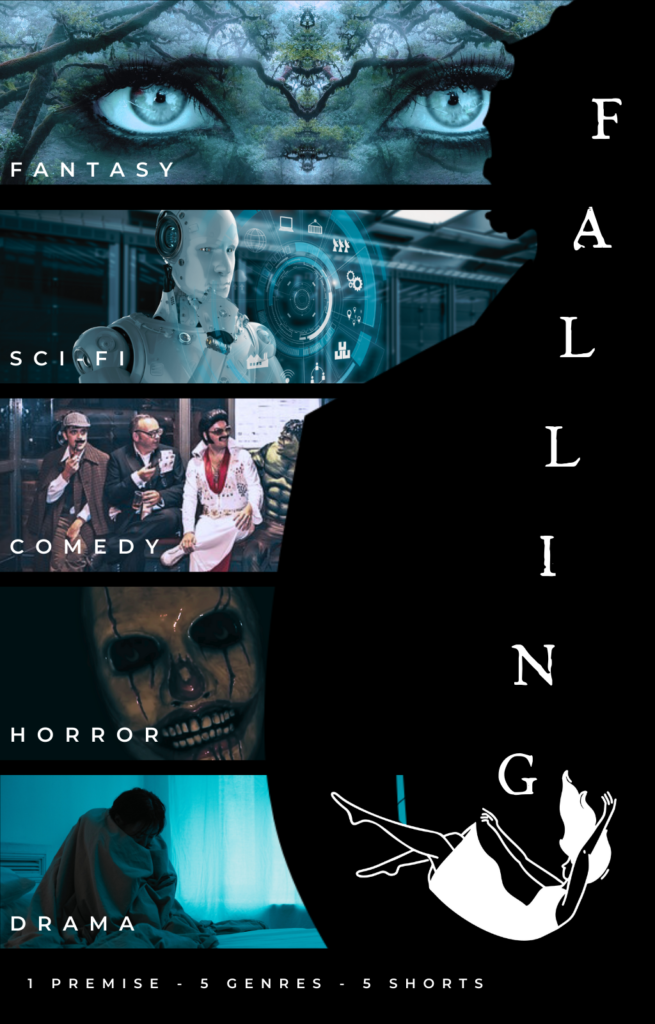 Created by Anne de Korte
Written by Stephen Goss, Victoria Howell, Anne de Korte, Judit Vörös and Alison Weaverdyck
FORMAT: 5 webisodes
LENGTH: 10-15 minutes each
GENRE: Fantasy, Sci-Fi, Comedy, Horror, Drama
STATUS: Scripts in development, proof of concept trailer in post-production
PREMISE:
One premise, one cast, five genres – Welcome to "Falling", an experimental web series/collection of short films that stems from a single prompt of a lonely "average Joe" wishing for love, but harnesses the power of drama, comedy, fantasy, sci-fi, and horror to present five very different short tales of love, loss, and longing for connection.
Falling is an experimental project in which we aim to explore the influence of genre on film storytelling. Sound design, camera angles, lighting, the way actors deliver a line – these are all elements that can change a scene drastically and are often dictated by the choice of genre. So we wanted to dive deeper into this. We didn't go as far as using the exact same script – that's another experiment for another day – but we are keeping as many factors consistent as we can: each script will start with the same premise, take place in the same location and use the same actors. And the choice of genre will dictate the prominent characteristics of our leads and how the story itself will unfold.
---
Genres
Depending on whom you ask, there can be anywhere between 11 and 13 basic genres, and that's not even going into all the subgenres that exist. Trust me, we'd be here all day. Perhaps helpfully, the one-location challenge we've set ourselves means that we can't do them all – and that's before we even consider the budget. Goodbye, then, to action, sports and western, but hello to these five genres that were the perfect mix of creatively stimulating and practical:  
Fantasy – Joe didn't really think his birthday wish for love would come true, but he never could have expected a multiversal doppelganger to show up and teach him that you can't find happiness without taking some risks. Written by Stephen Goss
Sci-fi – In the near future, Joe's smart house tries to fulfill its mandate to make him happy by creating his "perfect match" as a hologram. When he starts really falling for the program, he begins to question what "real life" even means. Written by Anne de Korte
Comedy – Joe's birthday wish to meet the love of his life goes awry when not one but five extremely different candidates suddenly appear in his flat. The situation is perfect fodder for a reality show, but the stress of living in such close quarters comes to a hilarious head when Valentine's Day arrives in this mockumentary-style short. Written by Alison Weaverdyck 
Horror – Devastated after the death of his girlfriend, Joe makes one last desperate attempt to see her again with a birthday wish. He's overjoyed when Hannah appears, but she comes with a warning that "they" will be coming for her… Written by Judit Voros
Drama – After a birthday wish brings them together, Hannah and Joe strike up an unexpected friendship. But just as Joe believes his wish for love really has come true, bad timing and his own fear of change intervenes. Written by Victoria Howell
---
Planning
Following some exhilarating brainstorming sessions, our writers are hard at work on their scripts. We've already been to set to shoot a proof of concept trailer, so keep your eyes open for the premiere – coming soon! Or subscribe to our YouTube channel so you never miss a new release.
---
---